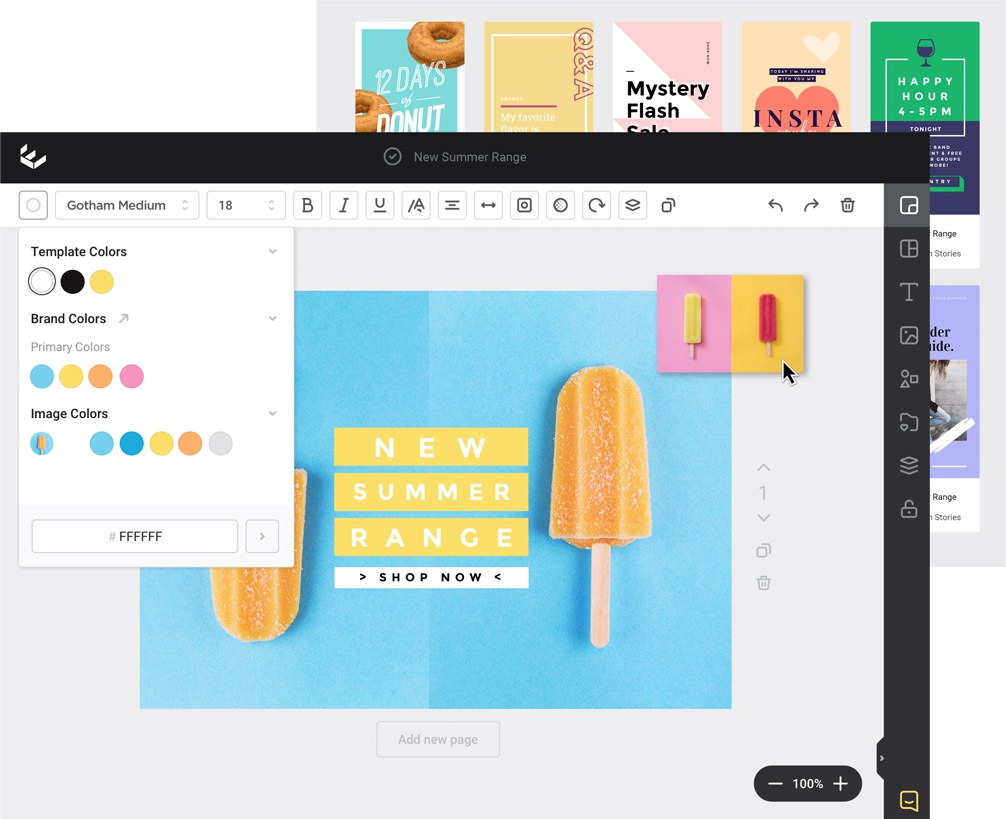 Graphic design tools like Canva and Adobe Spark have made it easier for anyone to learn the basics of design and create engaging social media graphics, business cards, flyers, resumes, and more. They've made the process less intimidating, more convenient with mobile apps, and much cheaper, with the basic plans being free.
But for those getting tired of using the same templates or wanting to just try something new, here are 5 more graphic design tools that we recommend.
1. Our Favorite Design Tool for Infographics: Piktochart
With Piktochart, you can create everything from infographics, presentations, and reports, to flyers and posters. Launched in 2011 by wife-and-husband team Ai Ching Goh and Andrea Zaggia in Malaysia, Piktochart helps nondesigners create compelling infographics with predesigned, themed templates.
2. Our Favorite Design Tool for Banners: Bannersnack
Founded in 2008 in San Francisco, Bannersnack is a banner maker and advertising app with more than 1,000 banner design options. As well as creating static or animated banners with Bannersnack (which can be download as HTML5, JPG, GIF, PNG or MP4 files), you can also see banner analytics and heat maps. While Bannersnack is primarily for social media banners and banners ads (for Facebook, Twitter, Youtube, Pinterest, LinkedIn, IAB, Google Ads Display Network, AdRoll, and ReTargeter, for instance), you can also create Facebook graphics and other social media visuals.
3. Our Favorite Design Tool for Seamless Integration: Lucidpress
Lucidpress has been described as a great, easy-to-use alternative to InDesign, and as a mashup of Google Drive and InDesign. Lucidpress—a web-based drag-and-drop page layout and design program—integrates easily with programs like Google Drive and Dropbox. First launched in 2013, Lucidpress can create brochures, flyers, newsletters, business cards, posters, magazines, and presentations, and today has over 6 million users.
4. Our Favorite Design Tool for Photo Editing: PicMonkey
PicMonkey is an online tool that allows users to edit photos, create collages, and design graphics. PicMonkey was founded in 2012 in Seattle by former Picnik employees Brian Terry, Justin Huff, Jonathan Sposato, Charlie Whiton, and Lisa Conquergood. Today, 10 billion images have been made and millions of users in more than 200 countries have used PicMonkey. PicMonkey's features include dozens of effects and filters, over 2,400 customizable templates, touch-up tools like changing eye color or hair color, and more.
5. Our Favorite Design Tool for Social Media Graphics Overall: Easil
Easil's tagline is "Your DIY Design Secret Weapon," and it has become an essential social media design tool for users worldwide. Founded in 2015 by Annette McDonald in Australia, Easil is an online graphic design tool that lets you create dynamic posters, banners, flyers, social media posts, covers and ads, TV graphics, and digital ads. With Easil, you can access thousands of fully customizable templates, create a Brand Kit, create animated GIFs, get exclusive stock images, and more.

Do you have a favorite design tool from the list? Let us know in the comments. And if you're interested in taking your digital marketing strategy to the next level, contact us today.